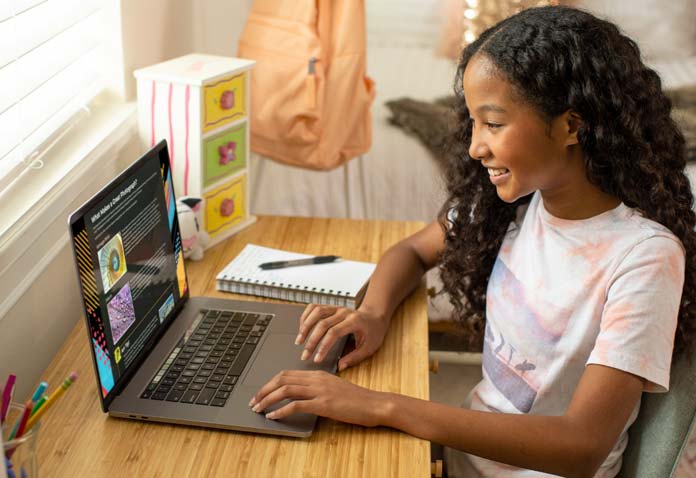 Policies & Procedures
Welcome to FlexPoint Virtual School. We're glad you're here! As you settle in, we've got some important information for you to cover, when you're ready.
Webinars
Students taking courses at either FlexPoint Virtual School or Florida Virtual School have the resources they need to be successful. Access to recorded webinars on a wide variety of topics is just a click away.
Student Athletes / NCAA Eligibility
Academic Requirements for High School Graduation, College Admission & Participation
If you plan to attend college and play a college-level sport, it is important that you educate yourself on the requirements for eligibility. Meeting the academic eligibility requirements to play a sport at a given college is not the same as meeting the academic standards for admission to that college.
Please review the resources on this page and contact your school counselor if you have questions or concerns.
NCAA Eligibility Requirements
For students entering any Division I college or university on or after August 1, 2008, your NCAA initial eligibility is evaluated under the 16 core-course rule, as described below:
Only core courses are used in the calculation of the grade-point average. No credit recovery courses are accepted.
Know your high school's list of NCAA-approved core courses on the Eligibility Center's website to make certain that courses being taken have been approved as core courses.
All SAT and ACT scores must be reported directly to the NCAA Eligibility Center by the testing agency. Test scores that appear on transcripts are not used. When registering for the SAT or ACT, use the Eligibility Center code of 9999 to make sure the score is reported to the Eligibility Center.
Important NCAA changes for students planning to enter a college or university after Fall 2016:

The changes affect the class of 2016 and beyond:
The minimum GPA for competition is changing from 2.000 to 2.300 with a required ACT/SAT score met on the sliding scale; and
Students must complete 10 core courses prior to the start of their senior year, and seven (7) of the 10 core courses must be in English, Math, or Science.
Eligibility Process
Grades 9 and 10
Take academic college-preparatory courses, preferably one in each of the following areas: English, math, science, social studies and foreign language. Be sure to compare course selection against the list of NCAA-approved core courses.
Grade 11
Continue to take college preparatory courses in the areas listed above.
Register for the SAT and/or ACT, making sure to use code 9999 at the time of registration. Using code 9999 will ensure the score is reported directly to the Eligibility Center.
Register with the NCAA Eligibility Center and complete both the academic information and the amateurism questionnaire.
At the end of the sixth semester, ask your school counselor to send a transcript (or transcripts, if more than one high school) to the Eligibility Center.
Grade 12
Continue to take college preparatory courses in English, math, science, social studies and foreign language.
Register for additional ACT/SAT tests if necessary, making sure to use code 9999 at the time of registration.
On or after April 1 of the senior year, go back into your Eligibility Center account to update your academic and amateurism information and request final amateurism certification.
After graduation, the guidance counselor will send the final transcript (which needs to include evidence and the date of graduation) to the Eligibility Center.
Stay NCAA Eligible!
As a student athlete, YOU are responsible for ensuring your eligibility. This includes registering with the NCAA and maintaining your profile. For a quick, step-by-step guide to register, follow the steps below:
Before you get started, note that the process can take up to one hour. Make sure you have access to:

Personal information
A valid email address
Your education history, including courses you have taken outside of your high school (summer school, supplemental courses, and virtual courses)
Your sports participation history
A fee payment of $70

The NCAA recommends all student athletes register during sophomore year. To begin, visit the NCAA College-Bound Student Athletes portal.
Create an account by clicking on the phone device or on "New Account" in the upper right corner. You will receive a link via email to create an account.
NOTE: If you receive a failure message, this could mean you already registered through the old NCAA website. If so, log in to the website using your email address and four-digit PIN and you will see instructions to start the transfer process. If you have not registered previously and receive a failure message, please call the NCAA Eligibility Center (877.262.1492).
You can save and exit the registration process at any time, but registration will not be finalized until all sections are complete.
Remember, you'll need to keep your account updated. Log in periodically to ensure your transcripts and test scores are current.
National Collegiate Athletic Association (NCAA)
Where to Send Transcripts
Transcripts must be official and cannot be faxed. Transcripts must be mailed or sent via overnight delivery. Please follow our guidelines for requesting an official transcript.
Mailing Address:
NCAA Eligibility Center
Certification Processing
P.O. Box 7136
Indianapolis, Indiana 46207-7136
Shipping/Overnight Address:
NCAA Eligibility Center
1802 Alonzo Watford Sr. Drive
Indianapolis, Indiana 46202
Overview of the Athletic Associations
Colleges fielding intercollegiate teams are organized into associations. The three largest — NCAA, NAIA and NJCAA — are also called conferences. These organizations set the rules regarding recruiting, eligibility requirements and athletic scholarships for member colleges.
Please use the following links to learn more:
NCAA - National Collegiate Athletic Association
NAIA - National Association of Intercollegiate Athletics

NJCAA - National Junior College Athletic Association

The NCAA is the most influential. Its members include the largest colleges.

NCAA Division I colleges are the most competitive athletically, can offer full and partial athletic scholarships (partially funded by the NCAA), and have academic eligibility requirements.

NCAA Division II colleges are less competitive than Division I and have different eligibility guidelines and financial aid offerings.

NCAA Division III colleges have no academic eligibility requirements and no NCAA-funded financial aid (however, the colleges can offer scholarships of their own).

AP Exams
Our students should refer to their FlexPoint Virtual School instructor for AP Exam information. Below are the general steps a student would take to register for the AP exam while taking a class with FlexPoint Virtual School:
Log into/create a new account in the "My AP" website
Receive your access code from your FlexPoint Virtual School teacher to join their class (repeat for every AP course being taken)
Contact a local school AP Coordinator in your area to take the AP exam and ask for an "exam only join code" (you will input a total of two codes: the code to join your AP Class from your FlexPoint Virtual School teacher, and the code from your chosen site's AP coordinator). FlexPoint Virtual School students contact schools on their own. For more information regarding taking the AP exam online, please contact the College Board directly.
The school's AP Coordinator will order exam materials, collect fees, and direct when/where to report.
The AP Coordinator at the student's selected school can review pages 63-69 in the AP Coordinator Manual, Part 1, provided by College Board, for directions on how to set up an exam only section. FlexPoint Virtual School does not complete that process. The AP Coordinator may also have additional, individual, instructions for the student according to their site's policies and procedures.
FlexPoint Virtual School does not register students for their AP Exams. Students must go directly through the College Board at to register for their AP Exams.
You may contact the College Board AP Services for students at 888-225-5427 (toll free in the United States and Canada) or +1-212-632-1780 or [email protected].

Transcript Request
How do I request an official transcript for FlexPoint Virtual School? All official transcript requests and fees for FlexPoint Virtual School are accepted through Parchment.