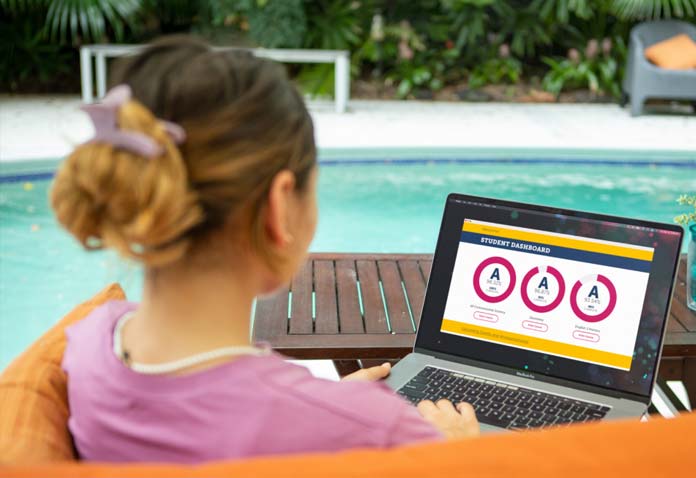 Earn College Credits Online
With Advanced Placement® (AP®) classes at FlexPoint Virtual School, you can boost your GPA, stand out on your college applications, and earn college credits. Same AP rigor. More flexibility. No limits.
AP Enrollment Dates
Students are encouraged to register for AP courses between June and December. Due to the proximity of the AP exams in May, it is in a student's best interest to register during that window. Here are the recommended registration dates for AP courses, although students can register year-round:
1 credit courses: June 1 - September 29
0.5 credit courses: June 1 - January 30
AP Exams
Our students should refer to their FlexPoint Virtual School instructor for AP Exam information. Below are the general steps a student would take to register for the AP exam while taking a class with FlexPoint Virtual School:
Log into/create a new account in the "My AP" website
Receive your access code from your FlexPoint Virtual School teacher to join their class (repeat for every AP course being taken)
Contact a local school AP Coordinator in your area to take the AP exam and ask for an "exam only join code" (you will input a total of two codes: the code to join your AP Class from your FlexPoint Virtual School teacher, and the code from your chosen location's AP coordinator). FlexPoint Virtual School students contact schools on their own. For more information regarding taking the AP exam online, please contact the College Board directly.
The school's AP Coordinator will order exam materials, collect fees, and direct when/where to report.
The AP Coordinator at the student's selected school can review pages 63-69 in the AP Coordinator Manual, Part 1, provided by College Board, for directions on how to set up an exam only section. FlexPoint Virtual School does not complete that process. The AP Coordinator may also have additional, individual, instructions for the student according to their site's policies and procedures.
Contact the College Board
FlexPoint Virtual School does not register students for their AP Exams. Students must go directly through the College Board to register for their AP Exams.

You may contact the College Board AP Services for students at 888-225-5427 (toll free in the United States and Canada) or +1-212-632-1780 or by emailing [email protected].
AP® and Advanced Placement® Program are registered trademarks of the College Board, which was not involved in the production of, and does not endorse, this product.